Miscellaneous Auto Services
For whatever else may pose a threat to your vehicle's road performance, our knowledgeable auto specialists provide a number of other miscellaneous auto services. And because our work is guaranteed, you can rest assured that you're receiving the best workmanship possible. Let us know how we can help you! Contact us at 818-343-6477 to set up an appointment for additional quality auto services.

Our miscellaneous auto services include:
After-Hours Drop Off
Sometimes auto repair needs arise long after most auto repair shops have closed. With after-hours drop off services, you leave your car at the mechanics shop for repair even if the shop has closed. You simply fill out an envelope, put in your keys, and drop it in a drop box. The auto shop will only contact you when your car is ready or when they need additional information. At Vince's Automotive, we value your convenience and that is why we offer after-hours drop off services. A completed Drop-Off Form will help the mechanic diagnose any problems. Even if we have closed, you just drop-off your vehicle at our shop and our mechanics will work on it and contact you when it is ready.
Fleet Maintenance and Repair
As a fleet owner, you have to do all it takes to keep the fleet on the road. When any vehicle is out of service, both revenue and your reputation as a reliable business are at risk. To make sure your fleet of trucks/vehicles is always on the road, partner with a professional auto shop. At Vince's Automotive, we can manage your fleet repairs and maintenance. We make sure servicing is up to date and up to standards. We handle all aspects of fleet repairs and maintenance.
Free Local Shuttle Service with Repairs By Appointment
When you drop your car at our garage for repair and servicing, you don't always have the time to wait until we've finished servicing your car. To get your busy life going on, we offer free local shuttle services. At Vince's Automotive in Reseda, CA 91335, we offer free local shuttle services to our customers. This service allows you to conveniently go back to your day's routine as we work on your vehicle - you don't have to wait at the shop. This service is by appointment.
Fuel Efficiency
The experts at Vince's Automotive can inspect your vehicle and perform services that can help it operate at peak performance and help improve fuel efficiency and overall fuel economy. These inspections and services may include items such as:
Change engine oil, using the recommended grade of motor oil
Check and change your air filter
Inspect and, if necessary, replace a clogged fuel filter
Adjust tire pressure to manufacturer-recommended specs
Inspect/clean the intake system
Inspect/replace emissions components and/or a faulty oxygen sensor
Inspect brakes for proper adjustment
Inspect power steering system and perform a steering alignment, if necessary
Align front suspension
Clean or replace dirty or malfunctioning fuel injectors
Inspect/replace spark plugs and spark plug wires
Check exhaust for clogged catalytic converter
Examine the exhaust gas recirculation system
Hubs, Seals, Studs, & Nuts
A wheel hub motor, also referred to as a wheel motor, is an electric motor incorporated into the wheel hub and drives it directly. You can have a safer and smoother ride today by replacing your warped and worn out wheel hubs. Let Vince's Automotive replace your worn out hubs today.

Properly working seals provide oil and grease sealing - offering enhanced performance in a wide range of temperatures and environments. Worn out or warped seals allow external contaminants to enter the bearing unit or let lubricant escape from the unit. This ultimately leads to premature failure of the bearing unit. To keep out contamination and retain lubricant in the bearings, have the seals replaced with new ones. To have the seals replaced by experts, contact or visit Vince's Automotive today.

Studs are the threaded fasteners that hold on the wheels of your truck. The wheel studs are permanently mounted on the wheel hub through the brake disk or brake drum. To secure the wheel, nuts (lug nuts) are fastened over the stud. Stripped wheel studs can be quite dangerous. Damaged wheel studs should be replaced with new ones immediately. To have your truck's wheel studs replaced with high quality ones, call 818-343-6477 or visit Vince's Automotive today.

A wheel nut or lug nut is a fastener for securing a wheel on the hub. A set of lug nuts are used to secure a wheel to the threaded wheel studs (which are fixed to a wheel hub). Worn out nuts means one thing - the wheel is not fixed securely on the vehicle which puts the vehicle at the risk of rolling over. To have your truck's wheels securely fastened to the hub, contact or visit Vince's Automotive in Reseda, CA 91335 today.
On-Site Welding
Welding is the fabrication and sculptural process that joins metal parts. At Vince's Automotive, we offer various welding services. Simply give us a call at 818-343-6477 or visit our shop in Reseda, CA.
Performance Modifications
Do you have a passion for speed and performance? Performance modifications on your car let you attain high levels of speed and performance. This type of modification involves changing or completely replacing some of your vehicle's parts with high performance ones to boost its performance and speed. Mechanics at Vince's Automotive have a passion for performance too. The mechanics will make all the necessary performance modifications to ensure you get the best performance from your drive. For all your performance modification needs, contact us at 818-343-6477 or visit Vince's Automotive today.
RV Repair
Having issues with your recreational vehicle? Do not take your RV to just any mechanic. Rely on a professional only - a person/auto shop like Vince's Automotive that has a track record dealing with recreational vehicles. For all your RV repair and maintenance needs, contact or visit Vince's Automotive today. At Vince's Automotive, we have qualified mechanics that have extensive experience repairing and servicing RVs.
Wheel Bearings
Wheel bearings are found inside of wheels, allowing the wheels to spin freely, and are connected to the brake system. They can become worn over time, causing a vibrating suspension and noisy rubbing as the car is driven. If they break completely, the vehicle will become very difficult to control and unsafe to drive. Replacement interval for wheel bearings varies greatly, but they should be checked for leaks and wear periodically. Vince's Automotive can make sure that your bearings are in good shape and let you know if they need replacement.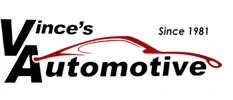 My daughter's car broke down on the freeway and the Triple AAA tow truck driver suggested Vince's Automotive. I dealt with Edward on the phone and he gave me a update on my car almost immediately. I had put a new transmission in two years ago and it was out of warranty four months ago. He told me that his shop would honor the warranty even though the warranty was expired and that the shop that put the transmission in should too Armed with that information I talked to my previous mechanic and we worked out a deal. Edward is an honest guy, I was surprised that he wasn't the owner of the shop! He is one of a kind and I will be taking all four of our cars there as ling as he is there. This guy is one in a million! He even handed the towing service so I didn't have to come in. You don't get customer service like this anymore.
Paul T.