COUPONS
Auto Repair Coupons, Rebates & Offers


Check our coupons page and follow our tips below to help you save money on the cost of car repairs and maintenance.
Schedule a regular oil change at Vince's Automotive in Reseda. It is the key to easy car maintenance and eliminating expensive engine repairs down the road.
Pay attention to the "service light" warnings on your dashboard. Responding quickly to a service light is often easy and affordable but ignoring a service light can greatly increase the cost of future car repairs.
Get to know your owner's manual. It is time well spent. The owner's manual contains valuable tips for keeping the cost of car maintenance and service affordable.
Discuss the details of needed auto repairs with your mechanic.
Call Vince's Automotive in Reseda at 818-343-6477 for Coupons, Rebates, and Offers and keep your auto repair costs low!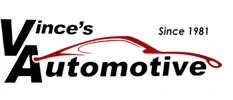 My daughter's car broke down on the freeway and the Triple AAA tow truck driver suggested Vince's Automotive. I dealt with Edward on the phone and he gave me a update on my car almost immediately. I had put a new transmission in two years ago and it was out of warranty four months ago. He told me that his shop would honor the warranty even though the warranty was expired and that the shop that put the transmission in should too Armed with that information I talked to my previous mechanic and we worked out a deal. Edward is an honest guy, I was surprised that he wasn't the owner of the shop! He is one of a kind and I will be taking all four of our cars there as ling as he is there. This guy is one in a million! He even handed the towing service so I didn't have to come in. You don't get customer service like this anymore.
Paul T.