TECHNICIAN CERTIFICATION
Automotive Service Excellence



Until the early 1970s, consumers had no way to distinguish between incompetent and competent mechanics. In response to this need, the independent, non-profit National Institute for Automotive Service Excellence (ASE) was established in 1972.

ASE's mission is to improve the quality of vehicle repair and service through the testing and certification of repair and service professionals.

At present there are over 420,000 professionals with current certifications. They work in every segment of the automotive service industry: car and truck dealerships, independent garages, fleets, service stations, franchises, and more.

Here's how ASE certification works: Prospective candidates register for and take one or more of ASE's 40-plus exams. The tests are grouped into specialties for automobile, medium/heavy truck, truck equipment, school bus, and collision repair technicians as well as engine machinists, alternate fuels technicians, parts specialists, collision damage estimators and auto service consultants.

Upon passing at least one exam and after providing proof of two years of relevant work experience, the test taker becomes ASE certified. Certification, however, is not for life. To remain certified, those with ASE credentials must be retested every five years.

The tests, which are conducted twice a year at over 700 locations around the country, are administered by ACT, known for its academic and occupational testing programs. The exams stress knowledge of job-related skills. They are no cinch to pass; approximately one out of three test takers fails.

Consumers benefit from ASE certification. It is a valuable yardstick by which to measure the knowledge and skills of individual technicians as well as the commitment to quality of the repair facility employing ASE-certified professionals.

ASE-certified professionals usually wear blue and white ASE insignia and carry credentials listing their exact area(s) of expertise (brakes, engine repair, etc.), while employers often display their technicians' credentials in the customer waiting area.

Consumers should look for facilities that display the ASE Blue Seal of Excellence© logo.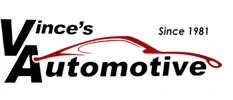 My daughter's car broke down on the freeway and the Triple AAA tow truck driver suggested Vince's Automotive. I dealt with Edward on the phone and he gave me a update on my car almost immediately. I had put a new transmission in two years ago and it was out of warranty four months ago. He told me that his shop would honor the warranty even though the warranty was expired and that the shop that put the transmission in should too Armed with that information I talked to my previous mechanic and we worked out a deal. Edward is an honest guy, I was surprised that he wasn't the owner of the shop! He is one of a kind and I will be taking all four of our cars there as ling as he is there. This guy is one in a million! He even handed the towing service so I didn't have to come in. You don't get customer service like this anymore.
Paul T.