90 DAYS SAME-AS-CASH
GET THE CREDIT YOU DESERVE!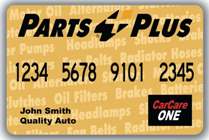 The Parts Plus CarCareONE Card makes it easy to keep your vehicle in top shape. With 90 Days Same-As-Cash financing available on purchases over $150 and low monthly payments, the Parts Plus CarCareONE Card is truly your auto service card. Use it for all your auto needs & it is the most convenient way to pay for all your auto-related needs. Whether it's routine maintenance or parts to a major repair, you can buy what you want...and need...now.

Unexpected repairs are more affordable and with extended financing and low monthly payments making repairs easier on your budget. Using the Parts Plus CarCareONE Card for all your vehicle's service needs lets you preserve your major credit cards for other uses. Plus, it's the convenient way to keep track of all your auto-related expenses.

It's quick and easy to apply. Simply visit a Parts Plus Autostore or Car Care Center near you and fill out the brief application form. Your application will be processed with 2-3 minutes.

Money Saving Benefits
No Annual Fee
Free Emergency Roadside Assistance
A credit card dedicated to auto-related expenses
90 Days Same-As-Cash on purchases over $150
25-day grace period billing on all purchases under $150
Low monthly payments
Won't tie up your other credit cards
No interest or fees unless you decide to extend payments
Nationwide acceptance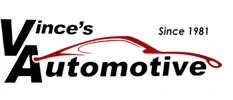 My daughter's car broke down on the freeway and the Triple AAA tow truck driver suggested Vince's Automotive. I dealt with Edward on the phone and he gave me a update on my car almost immediately. I had put a new transmission in two years ago and it was out of warranty four months ago. He told me that his shop would honor the warranty even though the warranty was expired and that the shop that put the transmission in should too Armed with that information I talked to my previous mechanic and we worked out a deal. Edward is an honest guy, I was surprised that he wasn't the owner of the shop! He is one of a kind and I will be taking all four of our cars there as ling as he is there. This guy is one in a million! He even handed the towing service so I didn't have to come in. You don't get customer service like this anymore.
Paul T.